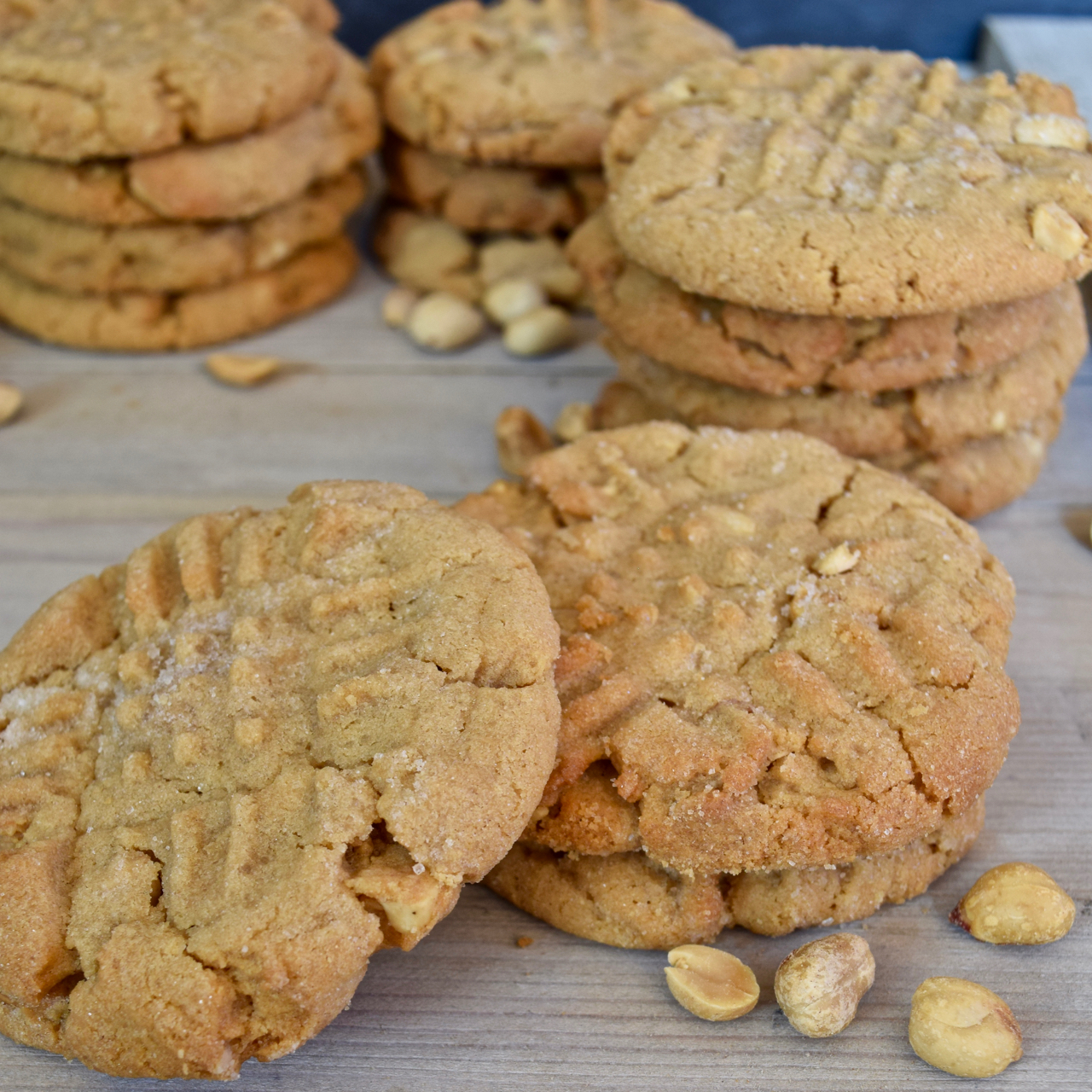 Peanut butter lovers rejoice!
I've been making these cookies for many years and they never last long! When I was younger my family would make loads of cookies for Christmas, and peanut butter cookies were ALWAYS in the mix. If I had to share my secret for the best peanut butter cookie it would simply be MORE peanut butter and MORE vanilla. It's all about that flavor!
I feel that using 'natural' peanut butter makes a cookie with a truer peanut flavor. I like to use the natural peanut butter varieties that don't have a separate layer of oil at the top of the glass jar. But as always, do some experimenting (use what you have on hand,) and find what you enjoy best.
Over the years I've baked this dough right after mixing and after it has chilled overnight and I enjoy the cookies either way. Letting the dough rest overnight in the refrigerator will allow the cookies to develop a slightly more pronounced peanut flavor.
This dough bakes well in small and large portions. Using rounded tablespoons, this recipe yields about 2 dozen cookies, or about 18 larger cookies.
My Best Peanut Butter Cookies
Ingredients
4 ounces unsalted butter, softened
1 cup brown sugar (220 grams)
¾ cup smooth peanut butter
1 large egg
2 teaspoons vanilla extract
1¼ cups all purpose flour (165 grams)
½ teaspoon salt
½ teaspoon baking soda
1 cup peanut butter chips
½ cup chopped roasted peanuts
Granulated sugar for rolling
Instructions
Preheat your oven to 350*F and line a baking sheet with parchment paper
Whisk together the flour, salt and baking soda and set aside
In the bowl of your stand mixer fitted with the paddle attachment, cream together the butter and brown sugar to make a smooth paste
Add the peanut butter and beat until smooth
Scrape your bowl then add the egg and vanilla and mix until smooth
With the mixer on low, add in all of the dry ingredients, blend for a moment and then add the peanut butter chips and roasted peanuts, blending to combine
Scoop desired sized portions of dough into a small bowl of granulated sugar, rolling the dough balls to coat them evenly
Place the cookies on your baking sheet and press them with a fork in a cross pattern
Bake the cookies for 12-15 minutes or until the edges are golden brown